This is the Inflatable Coffin Beverage Cooler available on Amazon for around $19. The 4'6″ x 22″ inflatable looks like a pool float but it's not — it's a beverage cooler and can hold approximately sixty 12-ounce cold ones and a bunch of ice. Alternatively, fill it up with red-dyed jungle juice and call it blood punch. Vampires will be so pissed when they try it and it's not real blood! And that's when you stake them in the heart.
This is the Book Rest Lamp designed by SUCK UK. It costs around $40 and looks like the houses you used to draw in kindergarten, with an angled roofline to rest a book on top of. Obviously, I'm into it, but you know how I feel about whimsy. "You'd marry it if you could." And have a fairy garden themed wedding where all the guests had to dress as their favorite animal. Of course this lamp probably works best if you're currently in the middle of a book. If you're stuck in the prologue, your roof is probably gonna slide right off.  And if there's a nudie magazine on top instead of a book, GET OUT OF MY ROOM.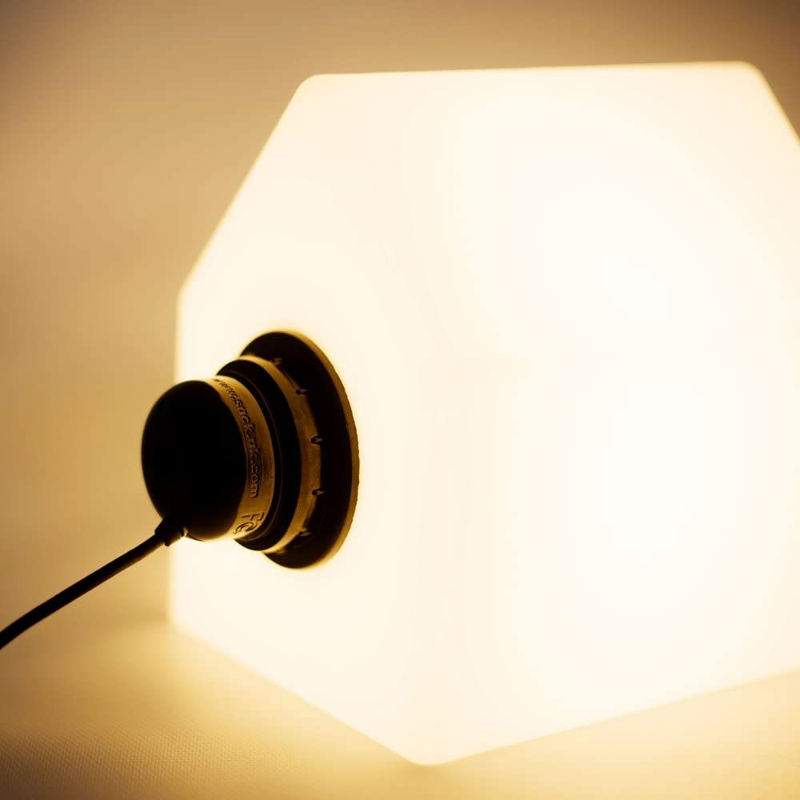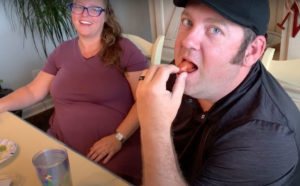 This is a very short video of a bear dressed as a human and swallowing a hotdog without even chewing it. In the videographer's own words while I run out for a package of tubed a$$holes and elbows and try this myself in the bathroom where my girlfriend cant't judge me:
"During a BBQ with friends, this gentleman mentioned he could eat a hot dog in one bite. The rest is history."
One bite? That was ZERO bites. You think this guy is training for the Nathan's Hot Dog Eating Contest? "Or an adult film career." Hey now! You think this man bathes in hotdog water? That's always been a dream of mine. The closest I've ever come though was the time I was staying at a five-star hotel and I asked the concierge if he could make that happen (adding a wink and a crisp Lincoln afterwards) and then my keycard stopped working.
Because who doesn't have $74,500 burning a hole in their pocket and Veruca Salt for a child demanding a robotic pet dog, Boston Dynamics has announced their Spot robot is now available for sale (it was previously only available for lease). The 'explorer' version of Spot is shipping now and comes 'ready to go right out of the box', which is probably a relief for those who were afraid it may have to be assembled like a LEGO set with no instructions. Thankfully, my buddy Closet Nerd offered to go 1/74,500ths with me, so now we just need 74,498 other people to go in with us and you too will have the opportunity to play with Spot *crunching the numbers* one day every 204 years.
Thanks to Closet Nerd, who agrees the end is nigh. So, so nigh.
This is a video from Yellowstone National Park of a bison stampede passing a car. Honestly, the stampede is a lot scarier looking in the distance than it is close up. Close up it almost looks like you could get out of your car and ride one of those mammer jammers. I mean they'd totally gore/trample you to death if you tried, but it looks like you could. Kinda how it looked like I could make the jump from my friend's balcony to his pool over the weekend. Sign my cast? "You get a penis doodle or nothing." You really are my everything, you know that?
This is a video of Youtuber BLACKHAND cutting out 1,400 pieces of printed paper to create a stop motion dance video. Man, my hand is cramping just thinking about cutting all that paper. Plus, you know, all I could find were right-handed scissors so now I have blisters. AND I accidentally cut a lot of my hair. "Wait, what?" Honestly I didn't even need a glue stick for this project but I ate one anyways.